Windows 10 screen recorder is a free tool used in recording your computer screen which is in-built in windows 10.
Microsoft decided to include the facility which originally was meant for xbox game recording, but is also useful in recording all things on windows 10 screen
Irrespective of what your screen is engaged in, be it movie, gaming, slide presentation, web surfing or just image capturing, you can record all.
SEE ALSO: How to Add Your Website and Blog to Opera News Feed
You can record everything very easily without having to download or install any software or screen recording application.
I guess sometimes you used to wonder what application you can use of to produce your youtube or facebook videos.
It may also interest you to know that after recording with windows 10 screen recorder, it automatically converts the file format to MP4.
MP4 is the file format which makes the video file compatible with the requirements of most video platforms like Youtube, facebook and others.
This means you don't have to start looking for software to convert to mp4. Interesting! I guess.
Steps to use Windows 10 Screen recorder
Turn on the recording facility by using computer keyboard shortcut keys Windows Key+ G or you can search Game Bar at the search field and click on it.(See Figure Below: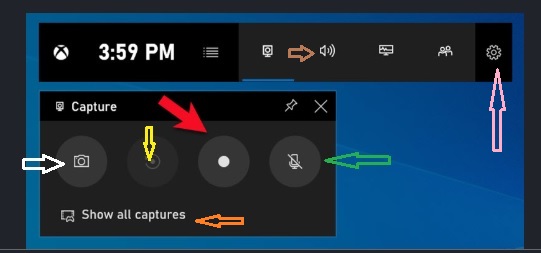 Click the button indicated by the Red arrow to start recording your screen
To capture images on your screen, click on the button indicated by White Arrow
In order to record the last 30 seconds of your screen, click on button pointed by Yellow color arrow
For you to enable your speaker sound so you can make voice over the video, click on the button pointed by green arrow.
To control the sound volume click on button directed by a brown colored small arrow
There are some other features you can interact with to make some adjustments. Click on the button pointed by the pink arrow
Also to view all your captured files click on the button indicated by an orange-colored arrow.
After recording, open the Videos folder of your windows and select the Captures folder.
We do hope this article helps in explaining how to use the windows 10 screen recorder.
(Visited 329 times, 1 visits today)