Are you having a hard time deciding which one to choose between google meet vs zoom for your conferences and remote meetings?.
Then look no further as this article is created to give you all details to help you make the right choice between google meet vs zoom conference applications taking into consideration some important factors.
With the recent increase in the need for remote meetings and work from home concept, video calling products owners continue to scheme to provide the best and gain more market share.
When it comes to video calling before the past couple of years,  Zoom has been the most popular option around.
But when Google released Google Meet in March 2017 and announced it was free, the video calling services echo system became disrupted.
Hence, it has become necessary for people to make comparisons on Google Meet Vs Zoom to help them choose which one is the best to sign up to.
Although, Google has actually been doing video calling as long as zoom has, both had their initial products launched in 2013.
But zoom has historically been focused on business conferencing for education and businesses, competing with others like Cisco WebEx and Bluejeans.
Google's first video call app was called Google Hangouts which mainly focused on the consumer market to compete with Skype.
Over the years, Google built additional communication products like Google Duo and then finally Google Meet in 2017 which targeted Google's G-Suites clients.
Fast forward to early 2020 and it seemed like Zoom took over the world in a matter of days when the Covid-19 pandemic showed up.
But why did that happen? you may ask.
Well, out of all the video calling products out there, Zoom is by far the easiest to use when trying to get into a meeting.
You just download zoom app, put in the code, and boommmmmm! you are in the meeting.
Now, this led to a security issue that got the name "Zoombombing"
What is Zoombombing?
 It is a term now used when referring to gate-crashing on video calling or meetings.
When people who typically were not invited to a meeting will get access to the code, coming to the meeting and would stream inappropriate videos or have access to conversations, it is known as zoombombing.
Zoom has since added some security features to prevent this from happening again.
If Zoom failed to address this issue, our review in this article comparing Google Meet VS Zoom would also have highlighted zoombombing as one of Zoom's weaknesses.
But Zoom calls are quite easy to use and free. They don't last forever, a free Zoom account is allowed to run each meeting session for 40 minutes.
See Also: Retina MacBook Pro 2015 vs HP
So what happens after the 40 minutes of the free session?
Zoom will time the session out and you can re-join afresh and start.
Also, when you try to dial into a Zoom meeting using a telephone line, it will attract a fee.
Google Meet Vs Zoom : Similarities
Both must depend on the internet to function.
Also, they each have a simplified user interface for connectivity.
Each has great sound quality with superb video picture clarity.
Besides, both products have mobile apps which can be used to login and join a meeting aside from the web-based platform part which seems to be the main option.
Furthermore, each has free and premium plans and Google meet has the browser feature which you can easily open with the meeting code and join, so does Zoom.
There are a couple of other similarities that may not be fully mentioned here.
However, our interest at the moment is on the main differences between Google Meet and Zoom.
Google Meet VS Zoom – Differences that truly matter to users
Google Meet has a time limit of 60 minutes for 100 participants while Zoom gives 40 minutes for a free account per meeting session.
This means Google Meet offers 20 extra minutes free compared to zoom.
 Beyond that, Google later increased its free account session to 24 hours per meeting.
Talking about comparing Google Meet VS Zoom, the free meeting time is a strong factor in determining which of these products will entice customers the more.
Hence right now, you can be on the Google Meet platform holding your meeting for whooping 24 hours non-stop.
Also, another huge difference when reviewing Google Meet Vs Zoom is that with Google Meet, you have to have a Gmail account.
Therefore, if you are the type that does not want to own a Gmail account, you may not be able to make use of the Google Meet service.
But with Zoom meeting, you do not need to have any Zoom account to join the meeting, however most often you may need a zoomdownload.
Although in Zoom, there are quite a couple of features missing from the Zoom web version such  as gallery  view, recording a meeting, scheduling a one-time or recurring meeting, live streaming, share and a host of others,
Google Meet works in any modern browser on the computer like Google Chrome, Firefox, Edge, and Safari.
There is no app to download from it on computers and it's well integrated with Gmail and Google Calendar.
Also, when you create an invite on Google Calendar it just takes you just one click to add a Google Meet invite link.
Of course, all the above factors should influence your decision when considering Google Meet VS Zoom.
Other Major Differences Talking About Google Meet Zoom Comparison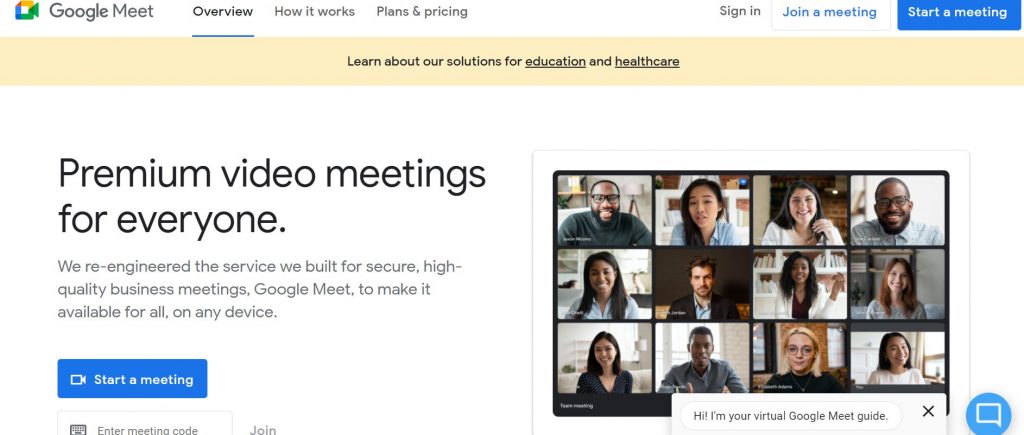 When you visit the Google Meet website, you are welcome with a pretty simple screen.
You can easily start a meeting or enter a meeting code to join an existing meeting.
Similarly, you have an option on the right-hand side to schedule a meeting.
On the other hand, when you load a Zoom app on the desktop, you are presented with a simple layout as well.
Furthermore, you have a button to start a new meeting, join an existing meeting, schedule a meeting, and share screen.
And when you start a Zoom meeting, you will see a simple user interface.
On the left-hand side of the bottom bar, you have controls to turn on and off the video and microphone.
Also, there is a security button that when clicked gives you quick actions you can take to make your meeting more secure like enabling a waiting room for people who want to join you to wait and when you approve them they can join.
You can toggle on and off whether or not you will allow your participants to share their screens, chat, rename themselves or even unmute themselves.
As well, there are buttons to see participants open their chats and know you can send individual chat messages on the call as well as messages to the general meeting group on the call.
Besides, on the zoom app you have a button to record the meeting session as well as add reactions.
You can change the meeting view at the top right-hand corner when you have multiple participants in the meeting.
Meanwhile, gallery view is popular which makes Zoom look like Zoom.
Looking at most of these features on both sides, it is very clear that comparing Google Meet VS Zoom is not a straightforward task.
More Features of Google Meet
When you click on start a meeting, it brings you to a holding screen where you can check your looks first on the camera to be sure you are good before proceeding.
In addition, you can decide whether or not you want your Mic or camera on before joining the meeting.
Recall that as explained earlier, in a zoom meeting you can send a chat to an individual participant apart from the group.
But in Google meet, you can only send a chat message to the group and not individual participants.
I guess this issue as little as it appears to be, maybe be a huge turn off for some users when comparing Google Meet Vs  Zoom.
Then, at the lower left-hand side of the screen, you will find the meeting details which you can expand.
Center on the bottom bar are the buttons to turn on and off the mic and camera as well as end the call.
Furthermore, the people icon is located at the top right-hand corner.
 Clicking the icon allows you to see all the participants in the meeting and you can access the chat icon in that same area.
Again at the right corner of the bottom bar, you will see a caption button.
When you enable it, Google will automatically begin to title your speech and display it word for word as you or any other participant talks.
But Zoom requires a third-party application.
The Present Now feature allows you to share your screen and allow other participants to view it.
Google does have a gallery view now that rivals Zoom that you can switch to when you have multiple participants on the conference call.
To change the view, click on the three dots in the bottom bar and select Change Layer.
Number of Users:
At the moment, Google meet does above 100 million users per day, while Zoom is the king of the pack with above 200 million users daily.
Hence, if comparing Google Meet VS Zoom on the basis of a number of users,  then I guess you already know which one to go for.
However, there is more to it than the number of users as we can see so far in the features and other characteristics.
Let's read on.
 Google Meet Vs Zoom: More Light
Availability and Accessibility:
Though Zoomcall is the most free popular video calling application, but Google holds the crown of being able to host meetings via any web browser of your choice.
Participants can connect to zoom meeting through a browser but must go through the Zoom web client or  Windows 10/macOS client.
Free Time Limit
Google Meet offers a time limit of 24 hours for a 1:1 meetings, Group meeting sizes of 3 +(max)  participants will have only 1 hour free.
With Google Meet you can access it via Google Chrome and other browsers without making use of any plugin.
All you need to do is just to visit meet.google.com url to start once you have a Google account.
But on the other hand, Zoom requires you to make use of some plugins for chrome and Firefox for zoom meeting scheduling.
Integrations:
Google Meet has been integrated with more than 200 other applications, some of which include Slack, Trello,  PayPal, HubSpot, Write, Square, FreshBooks, Evernote, ClickFunnels, Eventbrite, Zapier, and WordPress.
Most importantly too,  Google Teams works seamlessly with other Google apps, which includes Gmail, Slides, Drive, Calendar,  Chat, Sheets, and Docs.
Zoom integrates with more than  1,000 apps, such as Dropbox, Teamplify,  Chili Piper, Zendesk Notifications, Salesforce, Zapier, Stripe, Paycor Recruiting, Classpro, Calendly, and Pardot.
Considering the robustness of the zoom app and the numerous capacity of integrations available, Zoom solution is able to offer more business features than Google Meet.
Pricing:
Google Meet was formerly called Google Hangout.
While Google Workspace, formerly known as Google Suite, comes with top Google software applications, such as  Calendar, Gmail, Drive, Chat, Sheets , Docs,  Slides, Forms, and Sites.
The fundamental merit of going with a paid Google Workspace plan is that all the apps offered work seamlessly together.
Below table contains lates prices and top features for Google Meet and Google Workspace plans.
Google Meet Price table: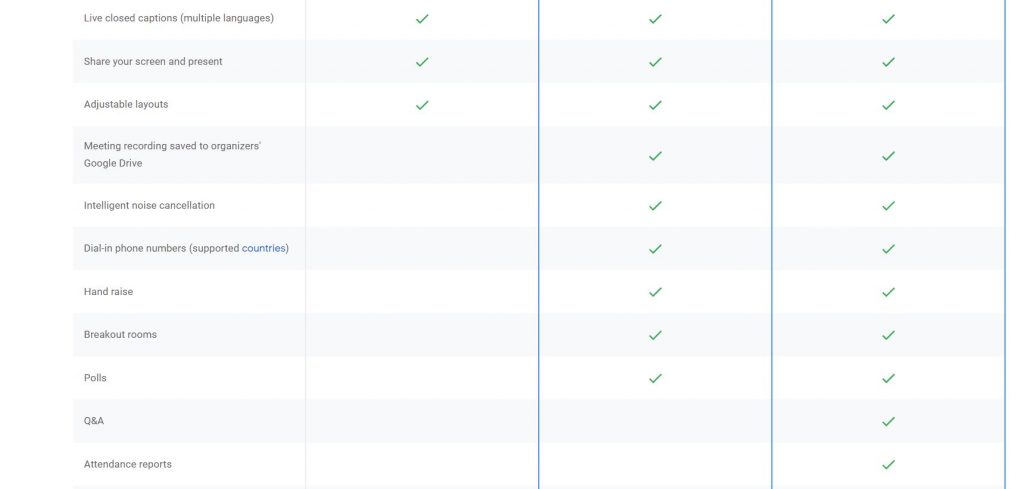 Zoom right now has a basic plan which happens to be the most popular of all its plans mainly because it is free.
In addition, Zoom has 3 different paid plans that range from $14.99 to $19.99 monthly per user.
They are the Pro plan, Business plan, and the Enterprise plan.
The table below indicates the latest different Zoom plans with their corresponding features one can get.
Zoom Price table:
Conclusion
Which one should you go for?
Okay, we actually expected this question after comparing Google Meet Vs Zoom, it is time for the verdict.
Now the answer to this question is simple.
Honestly, we have been using both products for some time and we can confidently tell you that the answer depends on two factors.
If you just need a simple video calling solution because it works pretty well with basic features and you don't have to download app for it, then go for Google meet.
As long as everybody has a Google account, it's going to work pretty well for your situation.
Also, keep in mind that Google meet gives up to a 24hours time limit for 1:1 videocalling. Which is quite huge and a big plus to Google meet.
Besides Google meet is better if you will want to integrate with the G-suite applications.
On the other hand, if you need a video calling solution with advance features like live streaming, breakout rooms and call recording for all plans, then signup to zoom.
Zoom provides a more robust experience with more capabilities for advanced enterprise videocalling requirements.
But if you think otherwise about this analysis, you can drop us a comment below telling us why you have a counter opinion on this comparison.
You can get Google workspace here or access Zoom here.
(Visited 643 times, 1 visits today)