Due to popular request to make some comparison between two powerful, elegant and advance MacBook Pro 2015 and HP Spectre x360 laptops by our fans and followers, we have decided to embark on the review and comparison exercise.



Perhaps, one of the major steps in wanting to acquire any of such devices after making some savings towards it is to ensure you have the right information as a guide to avoid regrets after purchase.
Both laptops are great devices with excellent speed, design, configuration and awesome finishing.
As mentioned we are reviewing 13'' Retina MacBook 2015 Pro which is among the coolest boxes ever designed by Apple. While on the other hand we have HP Specter x360, one of the most awesome windows ultra-boxes designed by HP.
Now here are the two great eye-catching machines with tremendous capabilities and stand out uniquely in the world of laptops with both of them been part of the latest generation.


Both devices look elegant and stylishly polished with superb esthetics that makes one wish to own any of them.
Both of these guys have about the same size, 13'' display, similar in weight as well. Both are available in core i-5 and core i-7 CPU capacities.
FEATURES
Retina MacBook Pro 2015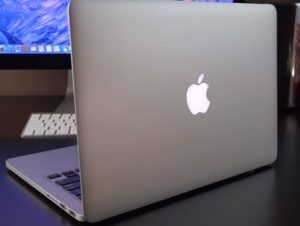 The following are the major features
2.9 13-Inch Intel Core I-5 Processor(5287U)
512 GB Of 4 Lane Pcie-Based Flash Storage
8 GB Of Onboard 1866 Mhz LPDDR3 SDRAM
Dual Cores On Single Silicon Chips
3MB Shared Level 3Cache
Integrated Intel Iris Graphics 6100 Graphics Processor Which Shares System Memory
720p Facetime HD Webcam
High-Resolution LED-Backlit 13.3″ Widescreen 2560×1600 (227 Ppi) "Retina" Display
No Internal Optical Drive
802.11ac Wi-Fi
Bluetooth 4.0
Two USB 3.0 Ports
Two "Thunderbolt 2" Ports
An Audio In/Out Port
An HDMI Port
Haptic-Capable "Force Touch" Trackpad
Backlit Keyboard
An SDXC Card Slot
And Comes With
It is a Laptop
Non Screen touch
Battery Of About 10 To 12 Hours Of Battery Life
OS- Mac
READ ALSO: See Free Tech Support Software That Can Help Your Business Grow Fast
HP Spectre x 360

13.3-inch 1,920 x 1,080 touchscreen
CPU 2.2GHz Intel Core i5-5200U
8GB DDR3 SDRAM 1,600MHz
3,839MB (shared) Intel HD Graphics 5500
256GB SSD
Optical drive None
Screen Touch
Digital pen
An Audio In/Out Port
Two USB 3.0 Ports
Convertible hybrid Two-in-One(it is both a laptop and a tablet)
802.11ac wireless, Bluetooth 4.0
Operating system Windows 8.1 (64-bit)
So for those of you who have maximum computing needs you can go for Retina MacBook Pro because of its processor power/capacity.
Meanwhile, HP Spectre gives you the productivity, versatility and multipurpose usage as it could be used as both laptop and tablets with digital pen as well to take notes.
On the whole, both devices are simply excellent and are worth investing on.
(Visited 1,503 times, 2 visits today)