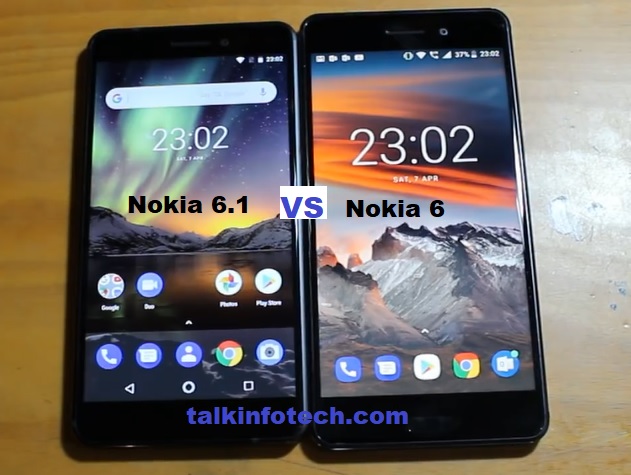 Nokia establishment in a bid to recapture the smartphone market has recently been involved in bringing out some powerful gadgets in the likes of Nokia 3310, 5, 6.0,6.1 etc.
The fact is that Nokia as a brand still has a sizeable number of fans with some passion reserved in one corner of their hearts for the corporation's products.
For some, the ruggedness of the products which they used to enjoy with Nokia maybe what still endears them to the products or why the old love still exist.
While others, it may be the battery life strength their products held as a  strong point in those days.
Many are still hopeful they will find such attributes in the new Nokia gadgets coming out.
If you are interested in purchasing any of the Nokia 6.0 (2017)and Nokia 6.1 (2018), then you need enough information about the two versions to be able to make an informed choice.
This article x-rays the two Nokia versions in terms of built quality, camera quality, performance speed,  operating system updates, Battery life etc.
Let us begin with Nokia 6.1 (2018)
In this review, I will like to share my impression that I have with this device sincerely and fairly.
First, let's take a look at the Quick Specifications
Nokia 6.1 (2018)
Snapdragon 630 (Octa Core)
3/4GB RAM
5.5" IPS LCD 1080P Screen (Gorilla Glass 3)
32/64 GB Internal Storage
Dual Sim Nano (Hybrid Micro SD-Card)
Rear Camera 16 MP f 2.0
Front Camera 8 MP f 2.0
3000 mAH Battery (Fast Charging Technology
NFC/Fingerprint/AndroidOne
That, in summary, is the Nokia 6.1(2018) configuration.
Now let us look at the devices holistically.
The Nokia 6.1 is the success of the Nokia 6.0 released last year that is 2017 hence the expectations are that a couple of features that failed to meet up in the older version must have been upped to standard.
We will soon see if that has been done religiously by Nokia.
First I will like to say that looking at the configuration above, Nokia 6.1 does not have plenty differences in terms of specifications from 6.0.
Read Also:  
However, they have upgraded the processor from Snapdragon 430 to 630  chipset making 6.1 much faster than 6.0.
But screen aspect ratio has remained 16 as to 9 which is the same.
Generally, let's look at the Likes and Dislike about Nokia 6.1 (2018)
What I Like About Nokia 6.1(2018)
The first thing that I like about this device is the Nokia tradition and that is the built quality.
The built quality is superb on this device and it feels actually premium holding it.
In that regards, Nokia did a very good job.
The front-facing camera is pretty good on Nokia 6.1
When you take pictures with the front-facing camera, you will be convinced the picture quality is cool even though it has just 8MP.
It is a stock android device also known as an androidone device. It is about the most recent operating system with frequent updates and security patch coming for security and other enhancements.
Also, I like the fact that Nokia 6.1(2018) comes with a QUALCOMM Quick Charger 3 which helps to charge your battery very fast and efficiently.
Battery life is one area I like this phone. Nokia 6.1 comes with 3000 milliAmp capacity battery even though I would have wished to have something higher.
It can last an average user for a day without topping.
But for a heavy user, you may need to charge again later in the evening.
A screen on time? I will say it takes like 4 to 5 hours screen on time, which is fair.
In terms of lifespan, Nokia 6.1(2018) built quality guarantees it lasting for a reasonable number of years that is if it is not allowed to fall or be mishandled.
Higher Processor capacity as compared to Nokia 6(2017)
Things I do not like about Nokia 6.1(2018)
The screen aspect ratio was not upgraded even after upgrading the processor to Snapdragon 630 chipset.
This to me is a shortchange because there ought to be a corresponding upgrade in the screen aspect ratio to enable users to have the capacity of the premium device.
Relocation of the fingerprint scanner from the front to an awkward position at the back.
I see this as s bit of turn off for me.
Because the position of the scanner is quite lower from the camera screen position making it a  bit hard to easily located by the finger.
You may get used to it after a week or two, but it is such a dumb position to practice to get used to.
No physical LED notification light. Take for instance your phone is in standby mode and you have an SMS, it will be hard for you to discover an SMS is waiting in your inbox for you to read.
Another example is if you missed a call without being aware, there ought to be a light indicator you need to check your phone to see your miscall.
So to see that you have to hit the power button to enable screen display.
The rear camera is a 16-megapixel shooter but with poor quality enhancement.
Unlike in Nokia 7, the rear camera output of Nokia 6.1 is just average.
Do not get me wrong, am not saying it is not okay, but it is just average and not great for a premium phone of such price status.
And lest I forget also, taking macro shots like bringing camera very close to an image and make it big and bright, the output on Nokia 6.1 shots are not sharp except if you set it on manual mode.
Again on this, it is a minus for me.
The flat Audio output is one disturbing feature I do not so much like in this Nokia 6.1(2018).
The audio jack put was not built to deep output. It produces just flat sound output without anything deep in terms of production.
Unfortunately, Nokia 7 suffers the same fate of producing sound without dept.  when it comes to an audio facility in the device.
Pricing of Nokia 6.1 is a little bit high.
Granted, it has good built quality and with stuff like efficiently functional sensors,  image stabilization functions and so on, but I still will say the price is a little bit on the high side.
So now let us do a little comparison in terms of quality between Nokia 6(2017) and Nokia 6.1(2018) before you think of buying.
Nokia 6 device has issues of being warm when in use. This suggests inefficiency in battery functionality. While the Nokia 6.1 is just slightly warm even when engaged in active gaming and video use.
Also, the processor of Nokia 6(2017) is lower (Snapdragon 430 chipset) while that of Nokia 6.1 (2018) is higher (630 Snapdragon chipset) making 6.1 faster and more efficient even while gaming.
Nokia 6 (2017) does not support fast charging unlike Nokia 6.1 which comes with a fast charger and supports such.
No optical image stabilization as opposed to the image stabilisation function in Nokia 6.1(2018).
I noticed while testing Nokia 6 that the user interface has some lags when consistently and speedily engaged.
This makes the phone not so efficient when handling multiple tasks. But it is not so in the case of Nokia 6.1(2018)
Poor Ram usage is also experienced in Nokia 6(2017) version of the device.
The RAM management in this device is typically like in many of the mid-range Samsung devices.
For example, when you load some applications and try to go back, it will reload the app which is evidence of poor RAM management.
So in summary, if you are the type that can be categorised as a casual user, you go with Nokia 6(2017), but if you are a power user or what we call a heavy user, you may look towards Nokia 6.1.
Also, if you do not mind the weakness of the rear camera, you can go for Nokia 6.1 (2018).
Similarly, you can opt for Nokia 6.1 (2018) if you do not mind the price of about 270 US dollars or about 97,000 Naira equivalent.
In general, the above pros and cons should guide you in making a learned decision between these two devices
Where to find this device to buy?
GO TO  HERE>>>>>>>>>
Nokia 6.1 (2018) Vs Nokia 6.0 (2017)-  6 Things to Know Before Buying
(Visited 829 times, 1 visits today)