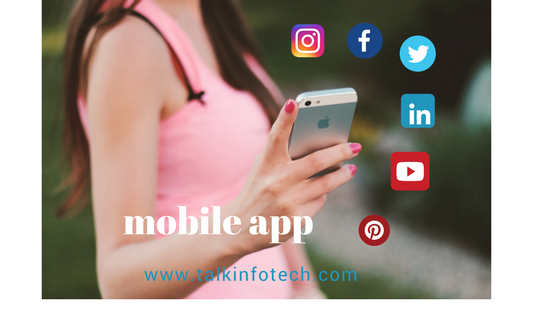 All over the world, mobile phone penetration is on the increase.
In America for instance, more than 75% of Americans use mobile phones.
This suggests that people will definitely be involved in things like searching, social sharing, shopping, paying for services using their mobile phones etc.
In Africa, a little less than a billion mobile phone users have been confirmed (Jumia 2017 report).
Out of this number, Nigeria tops the list of the countries with about 150 million mobile phone subscribers and internet penetration level of about 92 million users.
Just in case you think mobile app is for blue chip companies  like IBM, PG, CVX, XOM etc. only, let me inform you that even small to mid-level business seriously need mobile app to boost their business growth.
Research has shown that most people spend more time looking at their mobile phones than they watch their televisions these days and a chunk of that time is often spent viewing mobile app than any other content in the phone.
Recently, many businesses have started seeing the need to make their customers enjoy their products and services through easy access via mobile phones.
That is why the banking industry can no longer do without mobile app today.



For the benefit of those who still do not understand why their business needs mobile app, we have put together this article to explain to you more. Just keep reading…
6 reasons your business needs Mobile App
It Increases Sales
It is most often easier and faster for your customers to just stay in the comfort of their homes and offices to access and subscribe to your services and even pay and order.
For instance, a company like Domino Pizza witnessed a dramatic increase in 28th percent sales within just the first 6 months of deploying her mobile app.
And now, more than half of the organisation's online orders are via mobile app.
If you develop a good mobile app that is customers user-friendly, your customers will definitely rush it and even help to preach the gospel to others without you advertising it.
READ ALSO: 
Mobile App Serve As A Marketing Tool
Mobile app helps to provide for your customers all information you want them to know about your product and services.
Be it news, events, discounts, promos, prices, new products, coupons etc, your customers will have them right on their mobile phones and in their bedrooms and places they find themselves.
You know most times getting this information out there for public consumption cost fortunes.
Your mobile app does that for your business at no extra cost thereby boosting your sales outputs.
Creates Engagements With Your Customers.
Customers will find it easier and faster to interact with your products and services and even reach back to you with feedback via the mobile app than traveling down to your physical office location.





So as a business, feedback from your customers will surely help you adjust certain things, re-strategize and if possible modify your focus to improve your targets.
Besides, it helps to create customer loyalty with your customers.
The App Makes Your Brand Standout
Of course we know mobile apps are almost everywhere right now, but for businesses that do not have yet especially in their area of business domain where just a few have, e.g. like in tailoring business in Nigeria, it will make your brand stand out among your competitors.
Mobile App Helps Your Business Break Boundaries
Apps help your local business penetrate international markets.
This will afford your business equal platform opportunity to market your products and service to anywhere in the world where the big names also operate.
Simplifies The Purchase Process For Your Customers
Integrating payment gateway with checkout function will enable your customers to procure your goods and services from you easily.
Generally, imbibing technology to drive your business is quite critical as you can be sure your organisation will be growing from one level to the other as technology keeps advancing.
Just mention your type of business and we will list many benefits of using mobile app with it.
(Visited 350 times, 1 visits today)