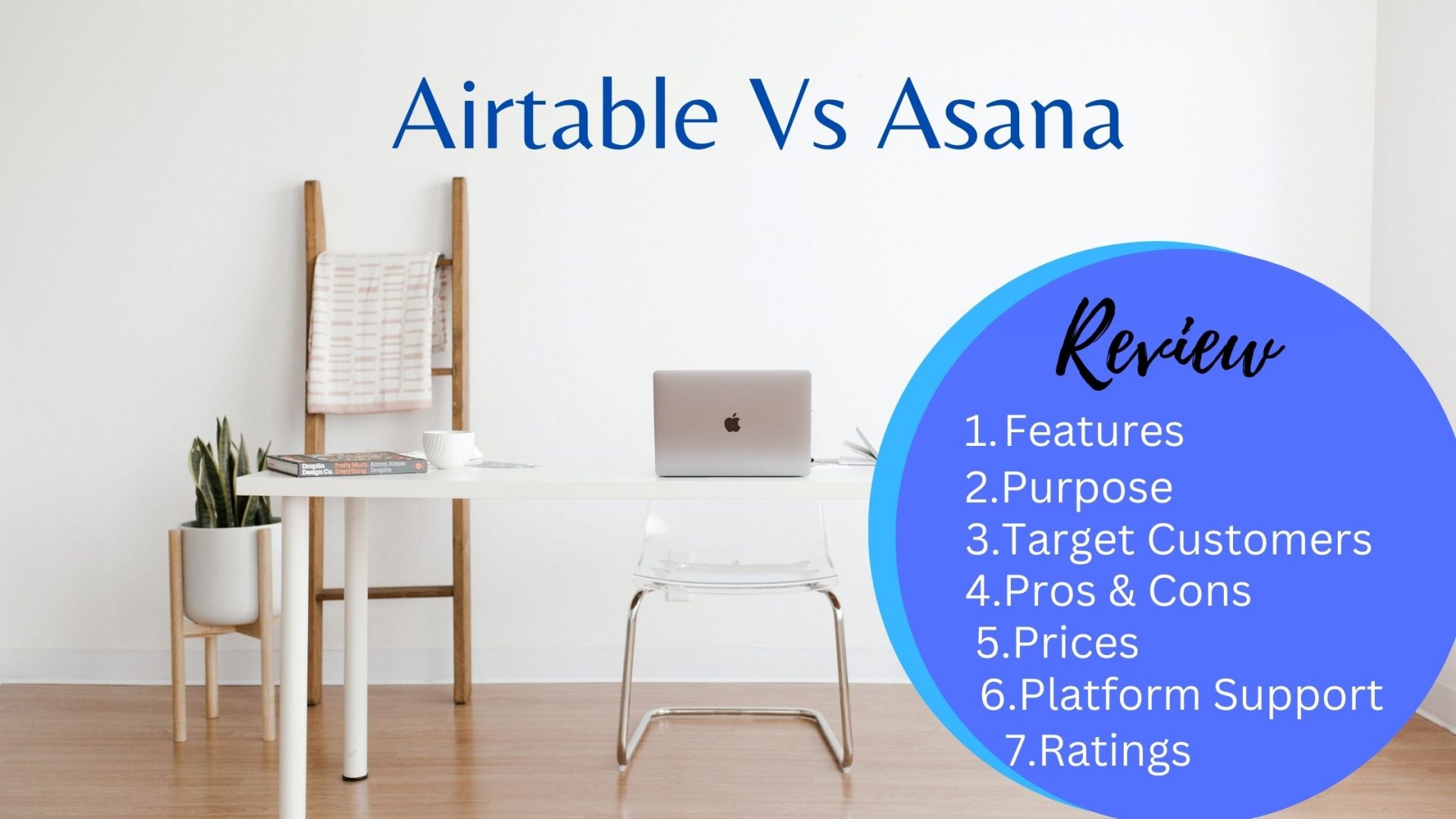 Airtable Vs Asana
Are you finding it hard to choose between Airtable and Asana for your project management?Airtable and Asana are great project management solutions that assist teams plan, coordinating, and meeting project deadlines.
In this article, we bring you a detailed comparison of Airtable vs. Asana including the features, pricing, and many more to help you make the right decision.




Airtable Vs Asana: A Comparison Table
In the table below, we provide a robust comparison of Asana vs Airtable software covering all important areas you need to know.
Software
Airtable
Asana
What it is
Airtable is an easy-to-use online project management platform that enables teams create custom applications used to plan, manage, coordinate and track project workflows for easily

Project management.

Asana is a cloud-based project management solution that enables businesses to organize, collaborate, communicate and manage their task and project. Asana has the capacity to manage more than one project at a time.
Purpose
Airtable gives you the opportunity to create a database that holds vital information to your work and uses it to fuel visualization, processes and integrations that form a unique custom application. Airtable allows you to create easy to use workflows.
Asana helps you to know who is doing what at any point in time of the project. It helps to make communication focused, actionable, provides work status across the entire team. Asana reduces talk time and increases work output.
Target Customers

Small size businesses
Medium size businesses
g enterprises(although slightly more favorable to small and medium size businesses then g enterprises )
Freelancers

Airtable is suitable for all categories of customers from small businesses to large enterprises.

The solution is most used by the computer software industry since it provides easy opportunity to build relational databases using several different data types within a single grid-based layout. In terms of location, it is most used in United States of America.

Small size businesses
Medium size businesses
g enterprises
Freelancers

Asana targets both small and enterprise organizations. It is robust enough to cater for any team, whether a project team, product team, marketing, remote, sales, or even office team.

Key Features. This section shows asana vs airtable features as a guide.

Fields: these are individual entries in a table used for inputting and storing data.
Tables: Spreadsheets that contain many fields used to store project information.
Bases: tables containing details which are used to create projects.
Workspaces: Is a collection of bases used to create project and to navigate the tool.
Records: contain rows and columns used to store information for the project.
Views: report used to filter data searches.
Team dashboards File sharing feature
Task scheduler

10.Shared team calendars

11. Time tracking

12. Resource management

Task lists
Gantt charts
Kanban boards
My Tasks
Task and subtask scheduler
Approvals
Shared team calendar
File sharing
Time tracking
Milestones
Custom fields

Pros:

Flexible data model – teams can store any type of business data.
With Airtable, you can create custom-tailored and shareable dashboards using custom reporting and flexible interfaces.

Broader enterprise application that focuses more closely on the core task and project management functionalities.

Cons

No formula table
Airtable bills per user rather than per organization
Poor communication solution
Airtable does not auto-refresh

Rigid Data model- stores limited data
Asana compels teams to put their work into a rigid project, task, and subtask hierarchy this makes the work looks crowded and clumsy.
Asana's reporting primarily focuses on tracking task completion (such as how long individual tasks take to complete) but does less tracking on other relevant project activities.

Platforms support
Airtable supports iOS, Android, Mac, and Windows and web Apps.
Asana also supports iOS, Android, Mac, and Windows and web Applications.
Free version
This plan is ideal for individuals or very small teams just beginning to use Airtable. Offers some helpful features like Editors, Unlimited bases, read-only users, records per base etc.
Good for small size businesses and individuals. Provides some key features such as unlimited projects, tasks, activity logs, messages, file storage and many more.
Paid version
Plus Plan

$10

per seat /month

billed annually

Premium

Meant for teams that want to create project plans confidently.

US$10.99

Pro Plan

$20

per seat /month

lled annually

Business

This plan is good for teams and companies that need to manage work across initiatives.

US$24.99

Customer Rating

G2 4.6
GetApp 4.7
PCMag 4.0
SoftwareAdvice 4.5
Producthunt 4.8

G2 4.3
GetApp 4.5
PCMag 4.5
SoftwareAdvice 4.5
Producthunt 4.8
From the table above, you would have had some clarity when looking at asana vs airtable features thereby aiding you to make an informed choice.




Conclusion
Generally, if you are comparing airtable vs asana in terms of pricing, both have almost similar rates. However due to advance reporting functionality, Airtable requires a little more time to learn. But quite a number of users see value in the training and say it is worth it for the advance reporting feature. On the other hand, Asana has a lot of features and it's incredibly easy to use even as a beginner. Again it is also important to note that as a team, if you need a project management solution that will allow you collaborate and connect with large group of people, Asana may be more preferable. While if you prefer a project management system with all-in-one project management and data visualization functionality, Airtable is a good option.
In all, both Airtable and Asana are great and popular project management solutions.
FAQ
Which of the two agile project management software is better: Airtable or Asana?
The better option is a function of the project size, needs, and budget and team size. Many of the small size businesses may be attracted to the advanced elaborate reporting functionality of Airtable while some other smaller teams might appreciate Asana's ease of use.
Are there any free project management software?
Yes, both Airtable and Asana offer free versions of their software; however, the features for the plans are limited. But if you upgrade to a paid plan, you can enjoy increased storage and users, aside from more other advanced features.
Are there different types of project management methodologies?
Yes, there are quite a number of different kinds of project management methodologies, each with its own advantages and disadvantages depending on the types of projects and businesses.
(Visited 90 times, 1 visits today)