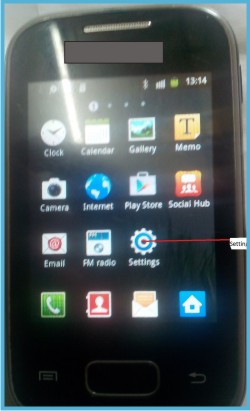 Let us learn how to share phone internet with other devices like laptop, desktop computer and tablet.
Having internet service in smart phones is good as it allows for handy use of internet on motion. It's like saying you are carrying the world in your pocket. Mobile phones aside their primary function of voice call, are also very useful in other means of communication such as mobile researching, email messaging, transfer of files via Wi-Fi, SMS, social networking, gaming, video messaging, entertainment etc.
However, there is often the issue of multiple data subscription by most users. Meaning, they subscribe on their phones and still pay for another plan for their computers or other devices for browsing.
This makes us to be financially wasteful as most smart phones come with a feature that enables one to share phone internet between mobile phone , computers and tabelts. Sometimes the reason most users suffer this fate is due to ignorance of the fact that the facility exist in their gadgets , besides, some who know a times lack the technical know how to set it up working.
What is Mobile Hotspot?
This is a facility in your mobile phone that allows you to share phone internet data on the phone with other external devices such as computers, tablets etc.
How easy is the process to share phone internet?
As simple as a b c. I want to say that you do not need a special technical training session to share phone internet as am I am going to guide you into doing it yourself step by step here and at the end you will discover it's just like a child's play . There are other means by which you can share phone internet from your mobile phone with your computers or other devices though such as Bluetooth and USB cables. However, our focus at the moment is on Mobile hotspot which is quite more reliable, fast and efficient as it works based on the same technology as broadband to share phone internet.



Connection types:
There are different types of connections used, but the most common are third generation (3G) and fourth generation (4G) technologies. At the moment it is not clear whether or not hotspot technology works with the earlier generation technologies like 2G as they are way slower in speed and even lower in capacity hence, we cant be sure if we can share phone internet using them.
Does my phone have hotspot to share phone internet?
It is pertinent to mention that not all phone categories can work with the technology or even possess the facility, however most recent smart phones have Wi-Fi hotspot inbuilt. Besides, some companies make provision for USB hotspot adapters for computers.
I remember a colleague ones approached me to assist in setting up such internet service so he can share with his laptop, on checking the phone, it didn't have the hotspot and that made him unhappy. Hence it is also important that you seek guidance before purchasing any mobile phone because most of those features count when considering the type or class of phone to buy.
Although some internet service providers do not allow such sharing or they sometimes may require you to subscribe to a different plan to enjoy that service, it may at that point be a wise choice to consult them , but for those who do not mind, you can proceed to activate and enjoy the facility.
Changing Mobile HOTSPOT Password on your android device
By default android Wi-Fi hotspot is password secure so there won't be unauthorised access to your phone by people you do not permit to do so.



In this case, you may need to change your password and or other Wi-Fi details to suit you.
On your phone, go to
Settings – Wireless and networks– Tethering and Portable Hotspot – Portable Wi-Fi Hotspot Settings – Configure Portable Wi-Fi Hotspot

Network SSID: is the name you want your smart phone to be identified as on the network. Change or leave, that it's best known to you.
Password: delete the password in the field and enter yours
Press done.
Note the password so you will use it on the laptop to connect.
Sharing the Internet via Hotspot
Open your android phone and navigate as follows
Tap Settings
Tap Tethering and Portable Hotspot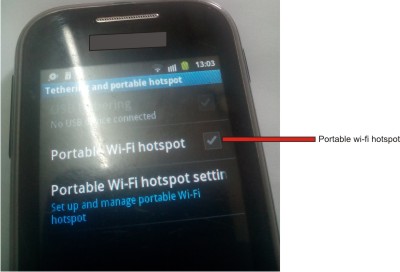 Turn on the Wi-Fi feature on your external device you intend to connect to the Hotspot in this case we are taking laptop to be the external device. So turn on your laptop Wi-Fi and Bluetooth.
And automatically your laptop will detect Hotspot device.
Connect to the device, if it ask for passphrase or password, enter the password you changed previously on the device.
And , woa!!! Internet shared.
If you found this article helpful, kindly leave us a comment ,like and follow us on social media platforms below.



(Visited 180 times, 1 visits today)