Whatsapp dark mode is a feature that allows you to enjoy a dark shade of light when using the WhatsApp application.
The request by many users of the application for dark mode was being numerous as some of them enjoy similar feature from other social media platforms like Facebook.
And it appears finally, Whatsapp has yielded to the yearnings of its numerous fans by implementing the whatsapp dark mode facility.
Some Advantages of The Dark Mode
The dark mode saves your battery life as bright lights are known to drain battery strength quicker
It saves your eyes from being affected by excessive bright light which has the tendency to affect your eye sight
Using dark mode has the ability to elongate the lifespan of your phone battery.
Also, it is always cool to have options to try out in features.
This article helps you to learn how to activate dark mode for both mobile devices such as Android phones, IOS phones, and the web
That way, you will know what to do if you find yourself using any of the options.
How to Activate Whatsapp Dark Mode for Android
Please note that you must have installed Whatsapp on your android device and its functional before this will work.
If you haven't please you can download whatsapp for android application and install it on your device then follow these steps to enable dark mode.
And note that for android and IOS you must have the latest operating system update
You can as well visit the Google Plays Store to download the application
Login to the Whatsapp Application
Open the Application Menu
Tap on the app Settings
Press Chat
Select Theme
Pick the Dark option
And your dark mode is activated .
How to Activate Whatsapp Dark Mode for IOS
On your IOS device such as iPhone, follow the steps below to activate the dark mode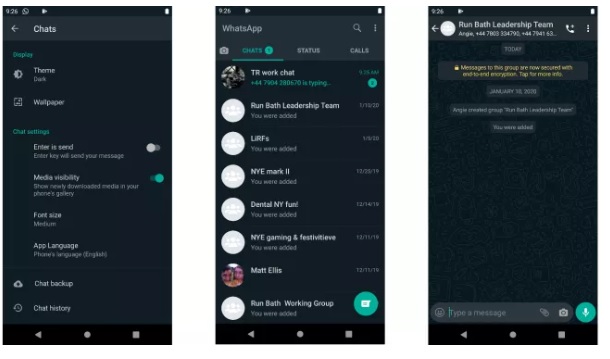 Login to your Whatsapp application
Open App Menu
Tap on the Application Settings
Click on Chats
Select Theme
Tap Dark
And your dark mode is turned on.
For both android and IOS, if you cant find the option to activate dark mode, you may have to access the Beta option of your phone OS
How to Enable Dark Mode on Web
As at the time of preparing this article, Whatsapp is yet to finalise Dark mode activation on web.
However, at the moment you can make use of a free plugin called Stylus which will allow you to create custom style sheets for individual sites.
Stylus can be used with both Firefox and Chrome browsers.
If this method will be too technical for you, we advise you exercise some patience pending when Whatsapp is done with the web part..
(Visited 226 times, 1 visits today)