Twitter search is an information filtering field used by the twitter platform to allow users look for specific information in the page.
Twitter is a powerful social media platform that helps people to share and connect with each other via quick and precise messages known as tweets.
It is possible some people may have been using Twitter for years without noticing or even thinking about the usefulness of the Twitter search field.
Like every other search button e.g Google search bar, it helps one to filter and get the very needed information in the website.
Sometimes it can be tricky finding some important tweets or information that you wish you can access.
Why Do You Need To Know How To Use Twitter Search?
Of course the importance of being able to search specific contents in form of tweets on twitter can never be over emphasized.
You need this knowledge if you are a content writer, product promoter, business marketer, service provider, etc.
Ones you want to grow your business make more profit, do online research, and or add to your skillset, this feature is quite relevant to you.
So How Do You Fetch Important Information Using Twitter Search?
Needless to mention you need to have a twitter account to be able to do that.
Please note that the usual twitter search bar cant easily give you the function to dig down specific information as the way you want, so we will make use of twitter advance search.
And there are different ways you can access the advance tool for this search.
You can either go through Google search and type Twitter advance search or you login to Twitter, type your key word on the search bar to search and click search
Then at the right hand side of the search field, click the three dots and select Advance Search.
See How to Delete a Twitter Account
This is How to Block and Unblock Friends on Facebook
How to Enable Instagram Dark Mode
Follow the steps below to get the advance search field:
Type in your keyword e.g @talkinfotech on the search bar and click search
At the right hand side of the field, click the three dots, then select Advance Search
Then input information you want to search and click Search
Alternatively, you can go to google.com and type Twitter advance search in the search field
Then click to conduct your search.
In the advance search field are a lot of fields which you can type in your keywords to filter the result according to your needs.
For instance you can search a a phrase like "latest news in California" then click search.
You will see different tweets from California showing different news updates.
With this search tool, you can filter based on complete phrase, account, language, date, engagements etc.
See figure below for more.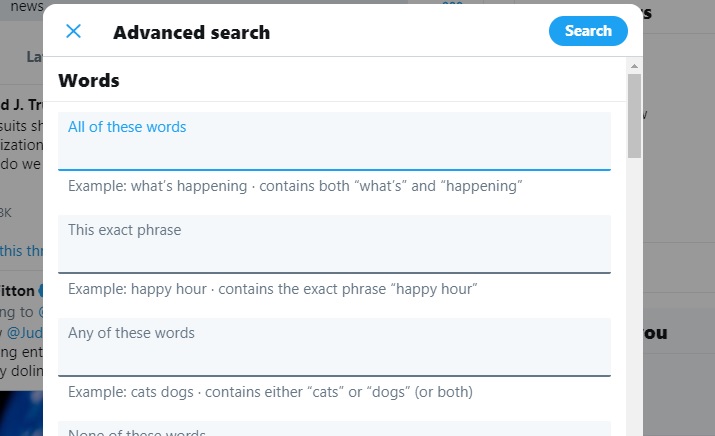 We do hope this article was helpful.
(Visited 207 times, 1 visits today)