In this article, I will like to show you how to post on instagram in few easy steps
Before now, I always had difficult times posting on instagram using the pc.
What I used to do is to edit everything with my computer before transferring to my mobile phone and begin to post on the platform.
If you have tried that method before, you know it is cumbersome and strenuous.
So, I researched to find out the best way to post on instagram using the computer which is now quite easy.
Before we start, note that why you can post on instagram using mobile phone is because of the plus sign tab on the homepage which you can use.
And the plus sing is absent in the pc the major reason you cant post through the pc.
Hence, to be able to post using pc you must find a way to get the plus sign to show up, which is what we are going to do in the steps below.
Steps on how to post on instagram using computer.
Open your web browser, I use Chrome, yours may be safari, Opera, firefox or any other one it doesn't matter which one you use.
Logon to instagram website.
Sign in to your account
4. And notice that you can't find any plus sign if you have logged in to your profile on PC
5. Now to make the plus sign appear, right-click on the upper right-hand part of the home page and click inspect.
6. On the opened page with code, look at the left upper part of the page and you will see a toggle shape image with black arrow indication as in the figure below.

7. Click on the toggle icon first time and the second time again.
This switches the Instagram page to the mobile format.
8. Then click on the refresh button on your browser.
And look down the Instagram homepage, you will find the plus sign there now.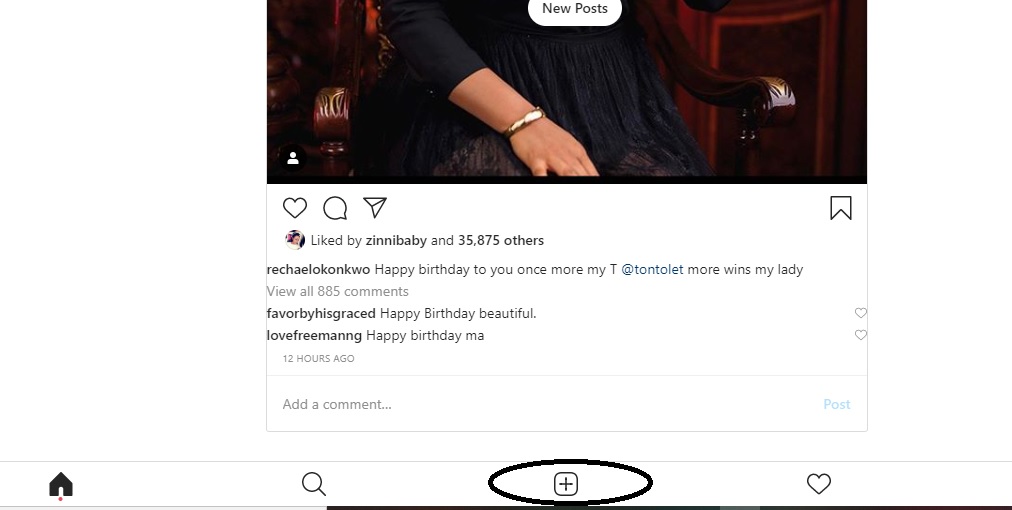 To post on instagram, just click on the plus sign and navigate to where your picture or content is stored to post.
We hope this article was helpful in guiding you on how to post on instagram .
(Visited 371 times, 1 visits today)