In this article, we will like to teach you how to create drop down list in excel in few simple steps.
Excel is one of the packages of the Microsoft office suite developed to help with simple accounting processes and mathematical calculations.
As simple as excel is, it is a powerful tool used by many professional accountants and data experts to process and manage data.
SEE ALSO: AI, machine learning, Computer Vision, Big data, what are they?
2007 to 2019 excel version contains more than 1 million rows, above 16,000 columns, and more than 17 billion cells.
How to create drop down list in excel
The following steps if strictly adhered to, will enable you to be able to create drop down list in excel like a professional.
Before you proceed, I will advise you to type the list you want to use in new separate sheet of the same workbook and name it.
You will make use of this sheet when the time comes.
Open a blank excel sheet
Click in the cell you want to create the list
On the menu bar, click Data
Locate and click the Data Validation tab at the right-hand side of the menu bar
Click on down arrow against Allow beside Any Value field  and select list on the displayed box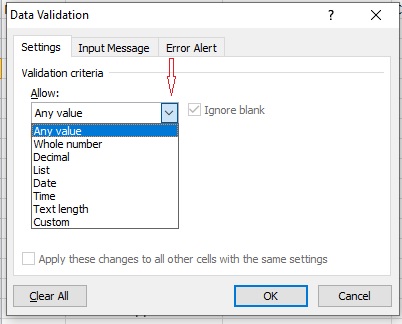 Just click on Source button to select the already created list in a new excel sheet
Click and highlight  the content of the list you had earlier created
Press Enter on your keyboard
Click Okay
After following the above steps, you would have been able to create a drop down list .
Please note that besides learning how to create drop down list in excel, you can as well be able to create a short list like gender (Male/Female)
To do that, follow steps 1 to 6, then type the content separating them with commas e.g male, female, and press okay.
Besides learning how to create drop down list in excel, there are quite a handful of other excel skill that can make your work easier and faster.
Keep visiting this site for subsequent free training articles on Microsoft excel.
We do hope this article was helpful.
YOU MAY LIKE THIS TOO :How to Block and Unblock Friends on Facebook Easily
(Visited 22 times, 1 visits today)