This article is created to give you 10 easy ways to make your computer faster and you do not need to be highly techy to achieve that. .
You see, it can happen to just any one.
You buy a brand new computer and put to use with good speed but after a few years it begins to be clumsy in loading, sluggish while starting even the lightest of the applications.
So what has gone wrong? Actually, there could be a couple of reasons why computer may become slow.
However, the essence of this write-up is to provide easy ways to boost the computer speed without any hassle.
And don't worry these are very simple and free things you can do by yourself.
Although some of the tips may look a bit technical but they are not complicated so I am pretty sure you can do them with ease.
10 Easy Ways to make your computer faster
Clear Out Your Startup Programs
This is the number one reason for computer slow down issues.
Just imagine this, as time goes on you install new programs and many of them heavily stored up in the memory and starting each time windows boot.
And if you do not clear them you have tones and tones of them running at the background thereby over utilising the system resources consequently slowing down the system.
The normal process to access those programs for clearing in windows 8 and 10 is to press CNTRL + SHIFT+ESC keys to activate the task manager wizard.(See image below)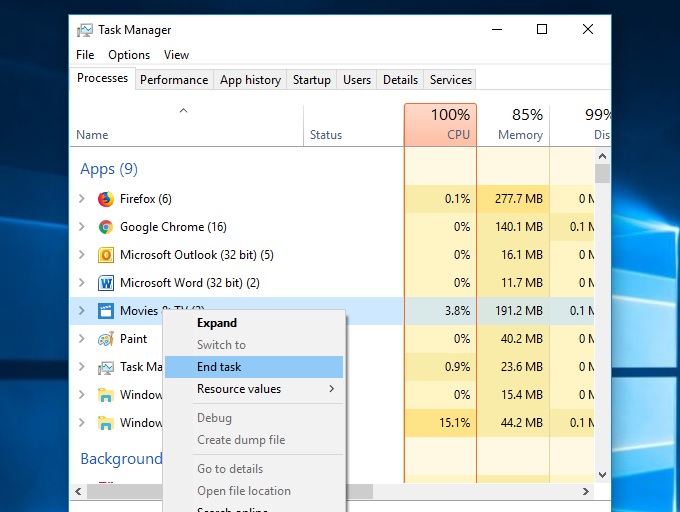 Then when the Task Manager wizard is up, click on More Details to expand and have a view of the entire list of programs running by also clicking on Startup tab.
And on any of the programs you can right click and select STOP to terminate the them from running.
But for Windows 7 and earlier versions, you go to Run tab, type MSCONFIG and press enter to activate the task manager wizard and click on Startup tab to right click and disable any program you so wish.
This step is one of the easy ways to make your computer faster
2. Disable Startup Services
The truth is that there are some programs that install what is called Services by themselves during installation ,so that after you disable them from the startup tab; you still need to disable their services that run at the background to have the desired result.
To do that, from start menu, click Run and type services.MSC
Then check the program against the startup tab if it shows Automatic then you know it starts automatically when windows boot.
You can at this point right click to select property and change the startup type value from automatic to either manual or disable pending on what you want.
But keep in your mind that you should be more cautious when disabling services especially for programs that are necessarily manually run by you. For instance disabling the printer service will stop printer from printing.
So only disable services you know very well will not cause trouble.
This in fact is also one of the easy ways to make your computer faster.
You May Like This Also: How to Block and Unblock Friends on Facebbook
3. Uninstall Unused Programs
There could be some programs on the system you noticed you have not being using either because you know longer need their services, or they are outdated etc.
Uninstall them to free up space and reduce resource utilization by them which is also one of the easy ways to make your computer faster
To do that, from Start Menu, go to Control Panel , click Uninstall tab then select the program and click uninstall tab at the upper part of the window.
4. Scanning For Malwares and Viruses
If your computer is always running very slow , chances are that there are hidden malicious software running at the background.
As one of the easy ways to make your computer faster, you can find a way to delete such malicious codes from your system.
To do that, I want to believe you already have an antivirus installed, run it to scan the whole system .
As a measure, always ensure you have a quality antivirus installed in the your system to protect it.
Do not wait until you notice virus or malware attacks because most times when you visit some websites, .your system could automatically contact virus without you knowing through the browser.
Besides, using external drives like flash drives, CDs, and other related means to move documents into your computer could infect it as well.
5.Disabling Windows Animations
Animations are multimedia contents that run on the system. They involve videos and heavy graphic contents.
Because they are heavy the consume system resources and slow down the computer speed.
So as one of the very easy ways to make your computer faster, you will have to disable them at windows level.
To do that, here we go:
Search at the start menu Ease of Access Center.
Click to turn off some of the features there that allow multimedia files running.
Example of such features are: when you click on Make the Computer Easier to See,
Scroll down to uncheck the option Turn Off All Unnecessary Animations
6. Keep All Your Software Up to Date
Including your windows, you must ensure its up to date, the drivers, the user applications like Microsoft office, etc.
Keeping them up to date ensures that recent security patches and updates are applied to protect and block unwanted scripts from infecting and affecting your computer.
7. Check Your Power Setting.
Did I just hear someone say "Power"? Yes power settings especially on your laptop.
Most times keeping the power settings of your laptop at Saver mode helps to save your battery however, it often slows down your computer performance.
But when you put it on High Performance mode, the speed improves.
Hence as one of the easy ways to make your computer faster, I always recommend using high performance option.
8.Defragment your hard disk
When there are fragments in your disk, your computer will be compelled to carry out extra work function.
But when you defragment your hard drive, you are rearrange your fragmented data giving room to your hard disk to operate optimally.
9.Clean Up Your Hard Disk
Most times unnecessary user files you no longer need occupy space in the hard drive thereby slowing down your computer.
As one of the easy ways to make your computer faster, you can manually delete those files and empty the recycle bin which directly occupy space in the hard drive and help the computer run faster.
10. Restart Your Computer Regularly.
Restarting your computer at least ones or twice a day helps to refresh the memory making it to improve in terms of performance speed.
If all the above stated points are strictly followed as easy ways to make your computer faster, you will be amazed at the level of improvement you will notice in terms of your computer speed.
Leave us a comment below in case you think there is anything we missed or tell us what you feel about our write-up.
(Visited 314 times, 1 visits today)